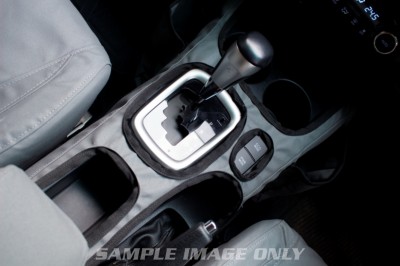 2
(Click image for larger view & additional images)
Toyota Hilux N80 (09/2015-Current) AUTO Tuffseat Console Organiser

The Tuffseat Console Organiser is a vehicle specific cover that runs from the top of the centre console to the back**, these innovative covers are designed to protect against scratches, pets nails and spills.
Key features include:
3 Pockets to house Mobile Phones, Charges, Wallets, UHF radio, all within reach
Openings to access all cup holders, gear shifters and buttons
Automotive Grade Premium Canvas
Designed and tested to over 20 Global and Australia OEM (Original Equipment Manufacturer) standards
Canvas includes industry leading a Flame-Retardant coating
Highly Water Resistant
UV Stable
Abrasion and Chemically Resistant
Tear and Mildew Resistant
Dimensionally Stable (won't shrink or stretch)
NOTE
This model suits Automatic Transmissions only
Applicable Models:
N80 Workmate, SR, SR5, Rogue, Rugged & Rugged X in all Cab Variants

Note: If your vehicle has vinyl flooring, the velcro system will not work as it is designed to attach on to the carpet flooring. The Console Organiser will still fit but may not be as snug fitting.
** Console Lid Cover not included
---
TBC
Caring for your Tuffseat Covers:
HAND WASH only (separately from other items)
DO NOT machine wash
Clean only with cold water and soft brush clean by hand
Do not use bleaches or chemicals such as pool chlorine.
Line dry only, DO NOT dry clean.
Your Tuffseat canvas seat covers come complete with a 3 Year Manufacturer Warranty, this is deigned to cover any manufacturing defects. If it is found that there is a manufacturing defect we will also cover any associated freight costs.

Please note that 'we,' the manufacturer may choose to rework, repair or replace the effected parts as appropriate. It is common practice for photo's to be requested from the customer in order for us to conduct an initial assessment for warranty. This is the prerequisite step in starting a claim for warranty.